Sunday February 25, 2018 03:12:39 PM
State Beauty Culturist Association of NY, Inc.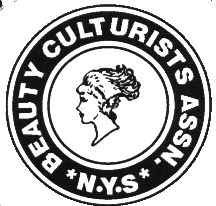 1941 2018
Click on one of these




Our State meetings usually take place Second Sunday of the month from September till June presently we meet @ Adam Clayton Powell Jr. State Office Building on 125th Street .
June 7th and 8th, 2015 our 74th Convention will be held at ADRIA Hotel and Conference Center, Bayside, New York.
June 2008 & June 2010 was our Educational Symposium and Convention. This was held @ "The Esplanade of White Plains", New York.
We also try and hold an upstate regional to increase membership in October.

77th Maude Gadsen Scholarship Luncheon 2018
Honorees', members and Scholarship along with models & sponsors
Our National Convention and Trade Show, Is where you can receive a BA; Master's or Doctorate degree in Cosmetology. There is also a 3 day Trade Show. There are Greek organizations and competitions that you can become a part of while furthering your education. " We look forward to hearing from you. National Convention and Trade Show was held in Winston - Salem July , 2008. New York had 4 scholarship recipients 2008 from Sallys' Beauty Supply, 2 Juniors, 1 Masters 1 and one Masters 2 who graduated.
2009 National was held At Crowne Plaza Hotel, in Cherry Hill, N. J. . July 18, 2009 until July 25, 2009. New York State and New Jersey State hosted this convention with many Surprises and fun things to do. New York received 4 scholarships from Sally Beauty Supply which provided them room and classes for the freshman year. Also had two (2) graduates from N. I. C.
2010 National Convention in Shreveport, La. was a success; NY State had (1) one Doctorial Graduate. State President received "Maude Gadsen Award @ President's Banquet.
2011 National Convention and National Institute was held in Indianapolis, Indiana (home of Madame C. J. Walker) July 17th - 22nd, 2011.
2015 National Convention will be held in Savannah, Ga @ Hilton Savannah DeSoto Hotel, July 25 - Aug 1st, 2015. (more info: www.nbcl.info)
ANNUAL MAUDE GADSEN SCHOLARSHIP LUNCHEON (our 75th) was held February 20, 2016 @ Astoria World Manor in Astoria, Queens, New York, 11:30 am - 4:30pm.
February 19, 2017 our 76th Luncheon was a great success and beautiful affair.
Education is the key to our future!
Come "Link Up With US"
Event Speakers
State President: Dr. James C. Davis

The Eleventh State President of S. B. C. A. and first Male in 65 years years of the organizations' history 2006 -2019

This is your organization come help make it the BEST !!

State Sorority: Omicron Chapter

affiliated with Theta Nu Sigma National Sorority.

Pictured here: State Fraternity : Gamma Chapter of NY Fraternity: Affiliated with Sigma Nu Theta National Fraternity. Also there is the Omicron Chapter Sorority of the Theta Nu Sigma National Sorority.
"Gamma Chapter" (missing treasurer Dr. Anthony Chestnut)

Our Fraternity and Sorority Flower
Check the Photo Gallery ( Description Below) !!!!!!!
State Activities @ National Conventions
(1) New York State graduates of the National Institute of Cosmetology in Detroit 1997; (6) Bachelors and (1) Doctorate. (2) 2001 BVC (Beauticians Volunteer Corps) new recruits for NYS 2001 Convention; Miami, Fla.
(3) Parade of States ( Roaring 20's ) at National 1999 ( St. Louis)
NBCL has advanced degree classes for licensed Cosmetologists as well as annual Convention and Trade Show.
(4) 2nd Place Winner for King 2001 (Miami, Fla.) with President and some officers and members @ National Convention . 2001 Graduates from NIC (National Institute of Cosmetology) was 7 this year 4 Doctorate, 1 Masters and 2 Bachelors. Also one member came in 2nd Place in Fantasy Competition. Congrats to all !! 2002 we had 3 Doctorate Graduates and 1 Associate Bachelors.
(5) Parade of States 2002 in New Orleans, La representing 9/11
(6) Annette Smith Jones: Brooklyn, NY Queen of National crowned in New Orleans 2002 pictured: Dr. Susie Wm. Pres.,; Dr. Annette Smith-Jones - Queen; Dr. James Davis - 1st Vice; Dr. Nelson - National Pres.; Dr. Loretta Easley- Gipson - 2nd Vice Pres.
(7)State Pres., State Queen (1st runner-up National), National Pres, (8) 1st Vice Pres receives Pres Award; (9) 1st place winner Talent search 2005 & 2nd place 2006 and 1st place winner of National Queen two years 2005 & 2006 (Mr. & Mrs. Maxwell) and National and State Officers.
(10) Parade of States @ National 2006: Night @ the Apollo. (11) Parade of States National 2007(12) National Sorority presents Dr. Davis an award 07.
(13) National Board meeting 2/09; Indianapolis, Ind. :Madame C. J. Walker's Theater: NY and Ind. delegation
(14) Sally Scholarship Recipients: 4 New York awardees
(15) NY Parade of States 90th Convention (16) Sat night NY & NJ reception (17) Our New York Queen is now the National Queen (18) NY Students received 2 BA's, 1 Masters and 1 Post Doctorate pictured 1 BA and one Post Doc. Mr. President
(19) BVC: Beauticians Volunteer Corp. (20) YFB: Youth for Beauty 09 (20) YFB NBCL 09 (21) NBCL SBCA Cake 2010 (22) Humanitarian Award Assemblymen J. Gary Pretlow Luncheon 2010 (23) Scholarship 2010 Receip. Brandon Bonitto (24) 2010 NBCL SBCA Queen and National Queen and 09 State Queen with Pres. and 2nd Vice (25) Receiving Maude Gadsen Award for Dr Anderson of Buffalo, NY (26) National Frat @ National Sorority Bkfast 2011 (27) NY Delegation @ King & Queen National Coronation 2011
2012 National Convention in Alexandria, Va. NY Queen placed 3rd and NY had 2 graduates one BA and 1 Masters, we also had 1 Sally Scholarship receip., NY tied 1st place Talent search.
2013 New York Queen tied 2nd place @ National 94th Coronation. 2014: July 95th NBCL in Birmingham, Ala; State Queen and President and State Court with National King and Queen; Night on Red Carpet Sigma Nu Theta Fraternity and Hair Designers Guild
ANOTHER PHOTO GALLERY BELOW !!!!
MAUDE GADSEN 2003, 2004, 2005: 62nd, 63rd & 64th SCHOLARSHIP LUNCHEON
(Guest Speaker03), National President 04 , Chosen 100, State "Buds" Queen 05; Opening Conv. 05; Opening Conv. 05; Guest speaker 05 & 06; Life Member 2008 ;opening conv. 06; Pres. J. Davis won 2nd place; Scholarship Check donation From Thomas Watkins Jr. Daily Challenge Newspaper; Ribbon cutting NY/NJ 07; Ribbon cutting State08; Fantasy Comp. @ Nat'l 06; Fantasy Comp. @ Nat'l 06 ; "Sigma Nu Theta" Masquade08; Bernice Calvin @ Conv08; Buds 2 Roses 05; Dave Ray's style class08; Hair shaping class08 ;Winston-Salem, N. C. (Frat) ;
ANOTHER PHOTO GALLERY FOR YOU !!!!
Lace Front Class 08; State's dietician; Christmas Party 08;Dr. Thomas Watkins Jr. "Businessman Award", Luncheon 09
Local Queen Contest @ Luncheon 09; Mr. G Shipman giving Song; Mrs. J. Coles-Fairey, "Humanitarian"; "Cosmetologist of Year"; Mr. J. Farley musician;
Dais Guests; Honoree's; Past Queen; Queen Contest; Queen Contest(2); Scholarship 09; New Queen n Court; Scholarship 2010; SBCA Queen 2010; State Luncheon Dais n Honorees; Convention Cake; Pres. presenting Local 2012 Queen Court;2012 - 2013 Queen; DIAS Guests 2012; Mistress of Ceremonies; Father of Scholarship Recip.; Dr. Davis DPC & fashion Chairs; Musician Gregory Rahiim Press; UNITS on Parade; Fin. Sec & Treasurer; Installation of officers 2012-2016; Installation of President 2012; Honorees 72nd Luncheon; Life Member Award; Queens 2013; State Queen 2013-2014; HairFashion Models 2013;NY Queen n Pres @ 94tth Coronation; SBCA members and State Queen, in Alabama 2014; State Queen with National n State Presidents 2015; Kings n Queens 2015

2016 National Convention ansd 76th Scholarship Luncheon
(Most Photos by D. Wallace; Dorothy Lewis (NC), E. Wheeler, Louis Phillips (LA.), Daily Challenge Newspaper : Photographers)